Executive Physicals in Carrollton, TX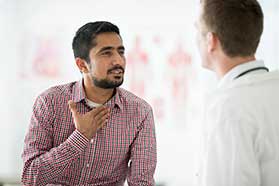 Getting an annual physical examination can be the cause of some annoyance—sitting in a waiting room, filling out tedious health forms, waiting indeterminately for your healthcare provider to arrive, and all of this culminating in a brief meeting during which addressing your entire health state is unlikely. In addition, for the working professional, getting a full picture of your health may be taxing on your time and energy, involving multiple doctors' visits in order to get the comprehensive reading of health you need. Due to these time constraints, many people wait to see their healthcare provider until there is a problem, taking preventative approaches to many medical conditions out of the equation.
To ensure your entire health is accounted for, the executive physical was invented to optimize the annual event of visiting your healthcare provider. Executive physicals move beyond the standard annual physical exam to provide patients with the most in-depth healthcare assessment available. These physical exams, combined with extensive lab work, are used to create a detailed health plan tailored to your unique health needs as they relate to your current state of health. They put weeks' worth of traditional testing and follow-up visits into a single day, to optimize your time and to revitalize your health.
Are you worried that your annual physical exam might not be getting the whole picture? Contact a healthcare provider in Carrollton that can provide an executive physical exam. Call (817) 203-2760 or contact The New You Medical & Infusion Clinic online.
Executive Physicals: What to Expect
Executive physicals move far beyond your normal annual physical exam. You can expect several hours to an entire day that will be dedicated to your sequence of testing. An executive physical exam will not only address physical health concerns, but also address your emotional health by evaluating stress levels and other factors affecting your mood. The exam will also evaluate lifestyle choices including diet and exercise and work to create preventative solutions to many common chronic ailments. It is recommended that you conduct research on the program you're interested in to identify inclusions as well as costs. Typically, patients can expect personalized consultations with specialists as well as a detailed report and tailored health recommendations.
Benefits of Getting an Executive Physical
Executive physicals offer far more than a sequence of testing not typically included in an annual physical exam. Benefits, which are many, of electing an executive health exam may include:
State-of-the-art screening: Executive physicals allow access to comprehensive testing services, including whole-body CT scans and much more, to bring light to any potential health issues lingering in your body.
Customized health advice: Oftentimes, the drawback of a 10 minute health exam is the health advice may be limited and generic. In an executive physical, however, time will be dedicated to carefully consider your unique state of health and how it may be optimized.
Relaxed consultation: Executive physicals are often all day affairs, allowing for personalized and intricate health planning that addresses all your health concerns.
Access to specialists: Whatever yours or your healthcare provider's health concerns are for you, executive physicals allow solutions spanning specialties. If you're worried, for instance, about your lack of exercise, fitness and exercise plans can be discussed with an exercise physiologist, while detailed diet advice can be gained from a dietician or nutritionist.
Expedient results: Unlike traditional physical exams, which, depending on testing, may involve multiple tasks (such as bringing in urine samples and having to return another day to receiving the results), an executive health program streamlines the process, completing sample collection the morning of your exam and having your results by the end of the day. You'll likely enjoy the benefits of getting your test results immediately and discussed in great detail with a trained healthcare provider.
Getting Started
Whether you ultimately decide that an executive physical is right for you, it's important to regularly assess your health status with your healthcare provider. A healthcare provider in Carrollton can discuss with you the details of an executive physical exam as well as whether you're a good candidate. For more information, call (817) 203-2760 or contact The New You Medical & Infusion Clinic online.
Hours and Directions
The New You Medical & Infusion Clinic
Address
100 Grapevine Hwy
Hurst, TX 76054
(817) 203-2760
https://www.newyoumedclinic.com/
Hours
Mon: 10:00 am - 6:00 pm
Tue: 10:00 am - 6:00 pm
Wed: 10:00 am - 6:00 pm
Thu: 10:00 am - 6:00 pm
Fri: Closed
Sat: Closed
Sun: Closed

Areas We Service:
Tarrant County, TX,
DFW, TX,
Las Colinas, TX,
Carrollton, TX,
Dallas, TX,
Irving, TX,
Richardson, TX,
Sunnyvale, TX,
Frisco, TX,
Roanoke, TX,
Weatherford, TX,
Arlington, TX,
Bedford, TX,
Colleyville, TX,
Euless, TX,
Fort Worth, TX,
Grapevine, TX,
Haltom City, TX,
Keller, TX,
North Richland Hills, TX,
Southlake, TX,
Watauga, TX

No results