Concierge Medicine in Cary, NC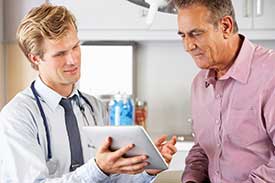 Concierge medicine, sometime referred to as membership medicine or retainer medicine, is a method of medical practice where patients are members that are treated on demand. As members, patients pay an annual fee for medical care and enhanced services like short or no wait times, 24/7 access to their doctor by phone and longer office visits.
Depending upon the concierge medical practice, your insurance may not be accepted because all of your care is bundled into your annual fee. However, in some cases your insurance can cover laboratory fees and diagnostic tests that fall outside of your concierge provided services. Maintaining your insurance is also important in case you are admitted to the hospital or require a service not provided by your concierge physician.
Are you interested in concierge medicine? Call (919) 301-0841 or contact Dr. Bhavna Vaidya-Tank online.
What is Concierge Medicine
You will notice clear differences if you choose a concierge practice. After paying your annual fee, you can receive a variety of healthcare services you just won't get with a traditional provider. Concierge medicine may include:
24/7 contact with your doctor by phone, text or email
In-home visits (when necessary)
Short or no wait time for an appointment
Longer office visits (sometimes an hour or more)
Comfortable offices with a luxury feel (snacks, drinks, electronic entertainment devices)
In-office lab work, EKG, ultrasound and other diagnostic services
Assistance with referrals to other specialists and enhanced guidance to prepare you for those visits and much more
Not all concierge medicine programs are the same, and some will offer only a portion of these services.
Benefits of Concierge Medicine
One of the biggest benefits of concierge medicine is practice size. Most physicians or healthcare providers are required to see thousands of patients in a short time and are driven by insurance company reimbursements to make money. Concierge medicine providers see far fewer patients—usually just a few hundred—which allows the provider to spend more time with each patient without worrying about how much insurance will pay.
Concierge Medicine & Insurance
While a concierge medicine provider will be able to offer you a variety of services under your annual membership, there may be times you will need to see a specialist, be admitted to the hospital, or have diagnostic tests like a CT scan or MRI outside of their office. This means you'll need insurance to cover those charges.
Concierge Medicine Cost
Concierge medicine doesn't cost as much as you may think. Each provider will set their own fees, so just know that your membership fees will vary from provider to provider. Rates will vary depending on how many people are joining and there may be reduced rates for families and students.
Many patients find that joining a concierge practice actually saves them money over time. This is especially true if you have high office co-pay.
If you decide concierge medicine is the way you would like to receive medical care, search around your area for a provider. Keep in mind that because these practices see fewer patients, they may not be taking new patients. You may need to add your name to a waiting list until a spot becomes available.
Learn more about how concierge medicine could benefit you. Call (919) 301-0841 or contact Dr. Bhavna Vaidya-Tank online.
Hours and Directions
Family Wellness Clinic & Regenesis MD
Address
8020 Creedmoor Rd
Raleigh, NC 27613
(919) 301-0841
www.regenesismd.com
Areas We Service:
Durham, NC,
Youngsville, NC,
Creedmoor, NC,
Chapel Hill, NC,
Apex, NC,
Cary, NC,
Knightdale, NC,
Morrisville, NC,
Rolesville, NC,
Wake Forest, NC,
Brier Creek, NC,
Crabtree Valley, NC,
Five Points, NC,
North Hills, NC

No results